Meet the JDEtips Team
We look forward to seeing/meeting you. Andy, Gabe, Laura, Penny, and Sandy will be at the booth. Stop by and chat, or ask us your questions about JDE challenges.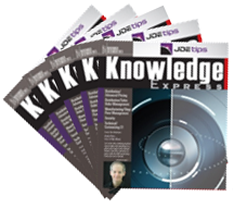 FREE Hard Copy Issue of Knowledge Express
Stop by Booth #711
Collaborate 14 Site
|
JDEtips Booth Location
Stop by our booth to receive a free bound copy of the JDEtips Knowledge Express
Magazine, packed with 100 pages about JD Edwards tips and techniques.
VIRTUAL Training Demo
See JDEtips University in Action
We'll demonstrate our virtual classroom setup showing you exactly what to expect when attending one of our public training classes. You can sit in the student's seat and get the real experience.
Educational Sessions
Be Sure to Add the Following Sessions to Your Planner
Note: When you arrive in Las Vegas, Collaborate will NOT have printed session guides available, due to the implementation of the Collaborate app for smart devices.

We have posted session summary guides you can print from.

• 69 page guide, with descriptions: Session Guide
• 15 page guide, without descriptions: Session Guide
• Collaborate Site Education Planner


Session #101370: The Basics of Advanced Pricing
Thursday, April 10th at 9:45am, Level 3, Murano 3304
Lisa Tran, IT Specialist, Stoner Solutions and Andy Klee, President, JDEtips
If you are new to Advanced Pricing or if you've been tasked with cleaning up a mess that someone else created, this session will get you started on the path to a clean, organized approach to Advanced Pricing. Learn basic setup and terminology to get started in Advanced pricing, how Stoner, Inc. uses a single price schedule to deal with multiple pricing discounts and fees, and best practices or "rules of the road" to remember with Advanced Pricing.



Session #103850: JDE Education — Outside the Four Walls
Date: Thursday, April 10 at 1:00 pm, Level 3, Murano 3304
Andy Klee, President, JDEtips, Sarah Mills, Business Systems Analyst, City of Olathe, and Penny Allen, Practice Director, JDEtips
The traditional corporate classroom with a live instructor is giving way to a host of new training technologies. Andy Klee and Sarah Mills present the best practices and technologies that forward thinking learning organizations at JDE clients are utilizing to train their employees. Learn the latest about: Virtual Classroom platforms—don't even dream of using Webex for virtual training! In-Application Performance Support solutions—give your users help at the moment of need. What to look for and are there viable alternatives to UPK? Social and Mobile Learning—There's more to it than throwing Jive and Yammer over the wall and hoping for the best. Short-form Videos—no one wants to read instructions anymore, right? What are some good platforms for creating and managing your JDE screen-capture videos? LMS selection—you need a Learning Management System to manage your students, classes, eLearning, etc.—but you don't have deep pockets. Is there hope for you?


Session #101230: It was the BEST of times, it was the WORST of times. Yes, we are talking UPGRADES!
Date: Thursday, April 10 at 3:00 pm, Level 4, Delfino 4104
Penny Allen, Practice Director, JDEtips, Michelle Hoskins, E1, Support Analyst, Gowan Company, and Sarah Mills, Business Systems Analyst, City of Olathe
If you had just one thing you could do over again with regards to your upgrade, what would that be? Join Penny Allen and Michelle Hoskins as they share the pitfalls, gotchas, and pleasant surprises of OPU—Other People's Upgrades. Penny and Michelle will share their own experiences, as well as input and stories from others. Hear Sarah Mills from the City of Olathe who has just upgraded to E1 9.1, and input from a CNC consultant who has seen many upgrade horror stories. Learn from other's mistakes, and borrow from other's successes. Hindsight is ALWAYS 20/20, but you don't have to look at your mistakes in the rear view mirror!