Stop by and meet the JDEtips team. We'll all be present Monday night at the Exhibitor showcase booth, then, Penny, Angie, Lori, and Gabe look forward to sharing how JDEtips can help you succeed the rest of the week.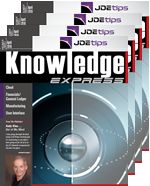 Free Hard Copy Issue of Knowledge Express
Stop by Booth #308
Collaborate 17 Site
|
Show Floor - JDEtips Booth #308
Stop by our booth to receive a free print copy of the JDEtips Knowledge Express
Magazine, packed with 100 pages about JD Edwards tips and techniques.
Virtual Training Demo
See JDEtips University in Action
We'll demonstrate our virtual classroom setup showing you exactly what to expect when attending one of our public training classes. You can sit in the student's seat and get the real experience.