Stop by and meet the JDEtips team. We'll all be present Monday night at the Exhibitor showcase booth, then, Angie, Lori, Penny, Danielle, and Gabe look forward to sharing how JDEtips can help you succeed the rest of the week.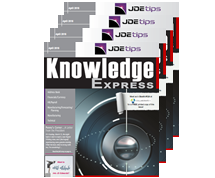 Free Hard Copy Issue of Knowledge Express
Stop by Booth #124
Collaborate 18 Site
|
Show Floor - JDEtips Booth #124
Stop by our booth to receive a free print copy of the JDEtips Knowledge Express
Magazine, packed with 100 pages about JD Edwards tips and techniques.
Virtual Training
Learn about JDEtips University
We'll explain our virtual classroom setup showing you exactly what to expect when attending one of our public training classes.
Educational Session
Demystifying Multi-Currency in JD Edwards
Session ID: 109710
4:15 PM - 5:15 PM April 25, 2018 in Lagoon D
Speaker: Danielle Lajoie, Training Development, JDEtips, Inc.
EnterpriseOne offers a wealth of Multicurrency functionality. There are many choices to make as you set up a company, configure the constants, AAIs and set-up exchange rates. In this session we will explore three of the most frequently asked multicurrency questions:

1. How is the FX rate used in an inter-company entry, and how do I void one? We will discuss how JDEdwards settles between the two companies, how the CA ledger is impacted, and what FX rate is used when the entry is voided.

2. The Monthly Valuation Process is often misunderstood. We will discuss the key purpose and the calculation that JDEdwards performs as well as the entries it makes for AP, AR and monetary accounts.

3. How are Foreign Currency Payments and Receipts handled in JD Edwards? Common question like which date is used to calculate the gain/loss will be demystified for you.