In-Application Performance Support
Electronic Performance Support Tool
Powerful. Simple. Affordable.
Learn how you can:
Document your JDE transactions and processes with a powerful add-in to MS Word.
Generate a variety of output for training, help and support, including simulations.
Make it effortless for end users to access this content in real-time and in-application.
Easily manage your content so you can always be on top of it.
With the following benefits:
Reduce content creation time by 50%-90%.
Reduce helpdesk calls by 20%-40%.
Reduce training cost and time by 30%-50%.
Improve implementation effectiveness in all phases.
Increase effective user adoption of JDE.
Do all this at a price 30%-50% less than UPK
Demo Video of Epilogue Live in JD Edwards: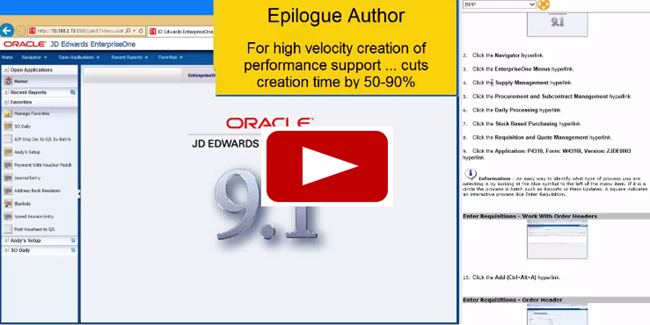 More Info:


Recorded Webcast
Download our recorded webinar and learn the benefits now.

Why Epilogue?
JDEtips selected Epilogue as the Electronic Performance Support tool we recommend due to its simplicity, functionality, and integration with JD Edwards. Combined with its attractive pricing, Epilogue is the clear winner.