Upcoming Events
We look forward to connecting with you at various events. If you are attending one of the following events and would like to meet us, please contact us and let us know.

---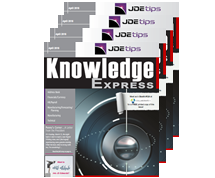 The Sheraton, Denver, CO - August 20-22
Quest INFOCUS Site
JDEtips Booth #608
We look forward to seeing/meeting you. Stop by and chat, or ask us your questions about your JDE challenges.
We'll explain our virtual classroom setup showing you exactly what to expect when attending one of our public training classes, and we'll be handing out free bound copies of the JDEtips
Knowledge Express
Magazine packed with JD Edwards tips and techniques.
Educational Session
JDE-104260: Looking at JDE from the database layer, things to consider...
Wednesday, August 22 | 9:15 AM - 10:15 AM | Governor's Square 10

Darcy Bains and Tim McMurdo of JDEtips will focus on looking at JDE EnterpriseOne under the hood from the database layer. We will describe the different schemas within JDE, how they are used and items to consider prior to working with the database directly, such as importing data, database updates , data refreshes & best practices. The different schemas and how they interact with each other is often a mystery to business professionals such as DBAs, developers, business analysts and functional leads. After attending this presentation, clarity will be brought to the mystery of the JDE database infrastructure and prepare you to safely work with the database and minimize risks.

Speakers: Tim McMurdo, JDEtips, Inc. and Darcy Bains, JDEtips, Inc.