HOUGHTON'S COMMENTS
Alex Haddad, Senior Supply Chain Business Analyst & Project Manager
After training our UK IT staff, providing training for our key business user in Germany, which is our next rollout country, has greatly improved our probability of success in that country. He didn't even know how to spell JDE before the training and now he's our best key user in adopting the Houghton Global standard. Being able to deliver a global standard that everyone understands is a huge win for us.
---
THE SOLUTION
Houghton needed to learn Inventory, Sales Order Management, and Procurement. They took advantage of JDEtips bundled training—a series of related classes taught during one engagement. If they took these three classes separately, the engagements require 120 hours (15 full days). Bundling into one training engagement reduced their training to 80 hours (10 full days).
---
VIRTUAL TRAINING
Houghton attended virtually yet felt like they were all in the same physical classroom and were able to share knowledge and ideas across their geographies. To accommodate attendees in different locations, classes were held from 8:00 AM to Noon, Eastern time.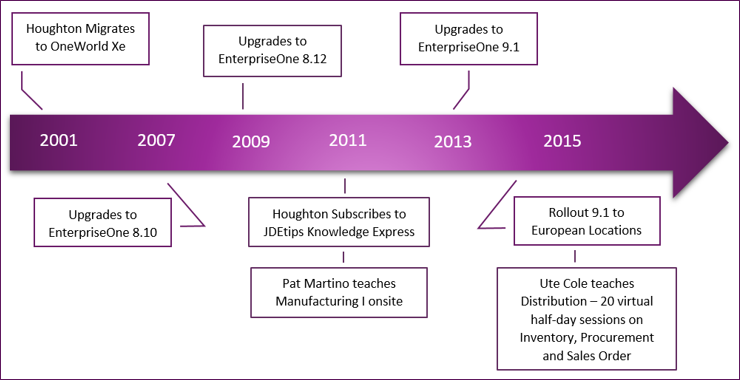 ---
RESULTS
Everyone raved about the JDEtips instructor, Ute Cole. "She knows her stuff, all the details, plus a broad understanding of the entire JDE solution. Ute made sure that our team also learned the downstream effects and the integration of the Inventory, Procurement, and Sales Order Management modules with each other and the Financials." Ute's evaluation scores were excellent—a near perfect 4.78 on a 5 point scale.
During training there was time for interaction on many aspects of their JDE setup, including:
Modules available but not utilized yet.
Houghton specific processes and alternate methods to accomplish them in JDE.
Standard JDE functions available for Houghton to begin using.
---
TRAINING HIGHLIGHTS
We asked Alex what he felt were the top three benefits from having his team attend class.
He responded:
Upgrading the skill level of the team.
Preparing a new country (Germany) for the JDE rollout.
Building the skills needed for the core team to support the international locations.
---
JDEtips congratulates Alex and Houghton on their successful rollout of JD Edwards to their international locations in the UK and Europe.